Personalized Fender Covers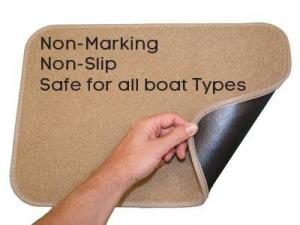 Personalize your boat fender covers with an embroidered design, boat name or custom logo! Our boat fender covers are made from a UV resistant, non-marking material that is incredibly durable yet soft enough to leave the hull of your boat looking as good as the day you bought it.
Our Custom Fender Covers can be made to fit almost any size and shape fender and can be personalized with your boat name or custom logo. Enclosed at one end and open on the other with a Velcro seem running the length to ensure a snug fit.
We use only the finest threads for our embroidery so you can be sure your boats name will be represented well for a long time to come. These fender covers are easy to use, easy to clean and easily the best choice for fender covers on the market
Please make sure all personalization is correct (spelling, upper/lower case) as custom items cannot be returned and orders cannot be changed once the order is in process.
Custom boat mats, gunwale mats and fender covers usually ship within 7 to 10 business days. Add 2 to 3 days additional if we are digitizing your logo.
* Click here Add Your Logo or Custom Artwork or in Options and Accessories below for details.