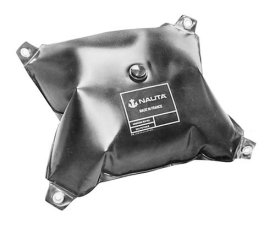 See our full line of flexible tanks here.
Stop that smelly odor. Replace those cheap holding tanks with a new leakproof, odor-free Nauta Holding Tank.
The more rigorously enforced laws against overboard discharge now make non-compliance extremely costly. A Nauta flexible holding tank, on the other hand, provides a relatively inexpensive Type III solution. The Tedlar lining of these Nauta tanks prevents gas permeation, thus stopping a major odor problem with many other cheaper holding tanks. Combined with a few other components, this solution is both legal and far less costly than re-plumbing a vessel or installing a more complex and expensive Type I or Type II system: it occupies less space and requires no electrical power.

Nauta Flexible Waste Holding Tanks use an extremely rugged 840-denier nylon fabric, coated on both sides with a neoprene/nitrile compound and complete with a Tedlar Lining. Heavily lapped seams are inside-reinforced with a "doubler" to provide extra strength. All Nauta tanks are vulcanized to assure panels and seams for years of trouble-free service.
Fittings are NOT included with Models FT915120, FT915150, FT915160, FT915180.