REVOLUTIONARY 5kw GEN-SET FEATURES COMPACT DESIGN
Many boaters want a gen-set but have limited space aboard their craft. A new 5 kW diesel gen-set can solve this problem, as it boasts the shortest length of any 5 kW unit on the market.
The UCM2-5.5 gen-set from Next Generation Power Engineering features a revolutionary design similar to its recent predecessor, the 3.5kW UCM1-3.5. Unique components include Next Generation's patented, low-profile generator mounting system and Goodyear's new helical cut timing system, which combine to allow the ultra-compact size. Dimensions are just 23'' long x 17'' wide x 20'' high, and dry weight is only 230 lbs.
A 10 hp, 2-cylinder Kubota diesel engine provides fuel-efficient power. It is freshwater cooled and completely marinized. The 60 Hz AC power it produces is enough to run any array of appliances and electronic devices, along with two typical air conditioning units. Operation speed is just 2,800 rpm, rather than the 3,600 rpm typical of high speed gen-sets. This drastically reduces noise and vibration while extending operating life.
PLEASE NOTE: SUBJECT TO SALES TAX IF DELIVERED IN FLORIDA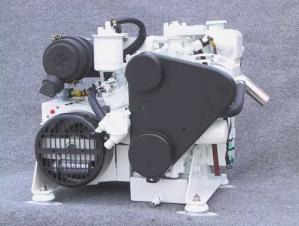 FEATURES
Cupro - Nickel Heat Exchanger
Water Cooled Exhaust Manifold
Direct Driven Self Priming Sea Water Pump
Stainless Steel Water Cooled Exhaust System
Air Cleaner/lntake Silencer
Oil Pressure & Water Temperature Safety Shutdown
Helical Offset Tooth Timing Drive System
120/240 Volt Generator
12V Electric Fuel Pump
Extra Resilient Four Point lsolation Mounts
"Easy Drain" Oil Change Kit
All Front Side Service
Marine Grade Tinned Wire With Heat Shrink Terminals
Remote Start Panel With Hour Meter and Harness
~ Standard unit includes Panel, 10ft harness
~ Enclosure unit includes Air Extraction Blower
A version is now available that is Ignition Protection Certified for use in gasoline powered vessels.
Ultra Compact Marine 5.5kW Specifications (PDF)
Ultra Compact Marine 5.5kW Owner's Manual (PDF) (approximately 500k)