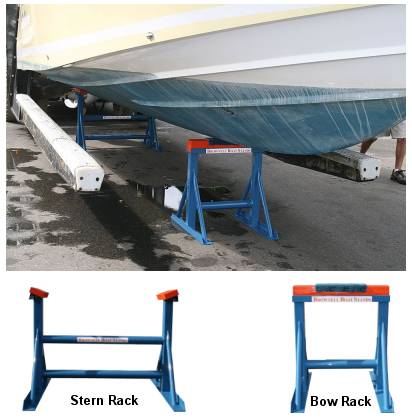 AhoyCaptain.com is pleased to introduce Brownell Boat Racks. Essentially, these racks are utilized for wash downs and service at dry stack yards which utilize forklifts in their operations. Some of the yards even winterize on these racks. Brownell power boat stands can be used for additional stability. They are easily stored out of the way when not in use, unlike the cumbersome wash racks which are currently in use in many places. The bow unit is universal. The stern unit is available in two widths and can accommodate most boats.

Additionally, there is broad application at dealers and yards that may want to shore up a boat even more quickly than they could by using four boat stands and keel stands/blocking. Boats can be placed on the racks using hydraulic trailers, as well.

Use Brownell Boat Stands to stabilize the vessel.
For boats up to 40 ft and 13,000 lbs displacement
For use with Fork Lifts and Hydraulic Trailers
Ideal for wash downs and service at Dry Stack Facilities
Fast and efficient
Compact for storage when not in use
Use Brownell Boat Stands for additional stability
Made in the USA from 100% American steel
Item #
Description
Weight
Dimensions
Width x Height x Depth
BRB

Boat Rack for Bow

67 lbs.(30 kg)

24.5" x 30" x 26" (62 cm x 76 cm x 66 cm)

BRS36

36" Boat Rack for Stern

73 lbs.(33 kg)

36" x 30" x 31" (91 cm x 76 cm x 79 cm)

BRS41

41" Boat Rack for Stern

77 lbs.(35 kg)

41.5" x 30" x 31" (105 cm x 76 cm x 79 cm)