How to choose dock lines
Dock lines secure your boat to a dock, or to another boat when rafting, either temporarily or semi-permanently. These applications demand different types of dock lines. Securing your boat to a dock or pier, thankfully, isn't a tricky science. Take a moment to read these tips before selecting your dock lines.
What Type of Rope?
Dock lines should be made from nylon, which has a superior combination of strength and stretch. Whether you pick 3 strand twisted or braided line is up to you. Both three-strand and braided constructions are common. Three-strand stretches more, is very abrasion and snag-resistant and less expensive. Braided nylon is stronger, comes in colors, and has a nice feel or hand.
What Size?
Select the correct diameter for your size boat. Remember that your knowledge of your dock or mooring location and its susceptibility to weather, waves and wakes should also be taken into consideration when choosing the diameter you will feel most comfortable with. So what size of rope should you use? The general rule is 1/8" of line for every 9' of boat. So using this rule:
| | | | | | | | | |
| --- | --- | --- | --- | --- | --- | --- | --- | --- |
| Boat Length: | Up to 18' | 19-27' | 28'-31' | 32'-36' | 37-45' | 46-54' | 55-63' | 64-72' |
| Line Size : | 1/4" | 3/8" | 7/16" | 1/2" | 5/8" | 3/4" | 7/8" | 1" |
What Length?
The next step is to select the appropriate length of dock line. Your bow and stern lines should be about 2/3 the length of your boat. So, a 30' boat means 20' bow lines and 20' stern lines. Your spring lines should be the length of your boat. A spring line helps keep your boat snugly to the dock while allowing the boat to rise and fall in accordance with the dock.
Ideally, you should have two stern lines, two bow lines, and two spring lines on board. As the diagram below shows, you don't always need to use two bow/stern lines, but you should have them on board regardless, because there will likely be a time when you do need them. When you're expecting heavy/stormy conditions, consider doubling up your lines. Remember, more is always good!
How to Secure Your Boat
The powerboat is using double bow and stern lines to keep the boat away from the dock.
The sailboat is using spring lines to prevent fore and aft surging, while the bow and stern lines secure the boat to the dock.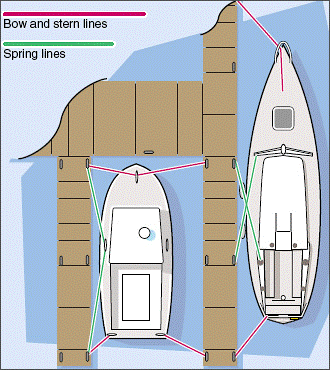 Selecting dock line, however, is a lot like selecting an anchor: you can never pick dock line that is too big. Remember one other thing, every knot in your line can reduce the holding strength of the line up to 50%.