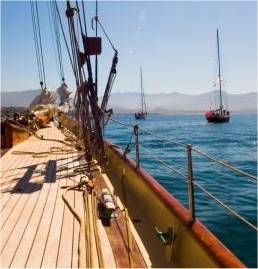 Replacing your lifelines
For safety as well as cosmetic reasons life lines need to be replaced periodically depending upon use, UV exposure and other environmental factors. If you determine that your lifelines need replacement and you want to use either the traditional vinyl coated wire or uncoated 1x19 wire, the easiest option is to ship your lifelines to AhoyCaptain and have our professional riggers duplicate your lifelines *. Normally you can reuse your turnbuckles and pelican hooks, or you may want to upgrade to the newer, safer Johnson Marine "over center" style pelican hooks. Another option is to complete the Lifeline Measurement Form and e-mail or fax this form to us.
* IMPORTANT NOTE: Before loosening and removing your lifelines mark the position of the turnbuckle using electricians tape around the threaded shaft.
Please use the diagram and table below as a guide to measuring your own lifelines. The diagram below represents a typical lifeline arrangement which has upper and lower midships gates. If necessary, please contact AhoyCaptain for lifelines with aft gates. Be sure to measure both sides of your boat as measurements often do not match from side to side. If your boat does not have gates, please measure 'A' from the eye of 'B' to the eye of 'D'.
How To Measure Lifelines:
1) Measure both sides of the boat for lifeline dimensions.
2) Do not measure with ropes, use a tape measure.
3) Enter a brief description of lifeline set-up from forward to aft. Please note fittings needed and any special instructions. Please refer to the hardware links below for info on common fittings. If re-using existing hardware, please note stud diameter, thread direction and stud length.

Lifelines without gates (A, E) or with gates (B, C, D)
A = Distance from bearing surface of bow pulpit to bearing surface of stern padeye (upper lifeline).
B = Distance from stern rail padeye to inside of gate stanchion.
C = Distance between stanchions (if lower gate is not wanted, please write "none" under the "C" dimension).
D = Distance from bearing surface of bow pulpit padeye to inside of gate stanchion.
E = Distance from bearing surface of bow pulpit to bearing surface of stern padeye (lower lifeline).
Maximum Wire Diameter – This is the maximum diameter of the wire and/or fitting that will pass through all of your stanchions. You can check this by measuring your existing lifeline terminals with calipers, or passing an object of a known diameter, such as a bolt, through your stanchion eyes.
Coated Wire vs Uncoated Wire Wire
Vinyl-coated 7x7 stainless wire: For years, 3/16" diameter white vinyl coated wire (5/16" OD) has been the norm. It has a traditional look and a smooth feel when you lean against or grab it. Although vinyl coated wire has been the standard for many years, vinyl coating can discolor, particularly in high UV areas, and because of the coating the wire underneath is difficult to inspect.
Uncoated 1 x 19 wire: 3/16" diameter uncoated wire is becoming more popular and is now required on offshore racing boats. Although a little harder on the hands and body when you lean against it due to its smaller overall diameter and rougher surface, it is easier to inspect for corrosion.
Get a free quote and order custom lifelines and lifeline fittings for your boat with this simple online form. Download: Lifeline Measurement Form